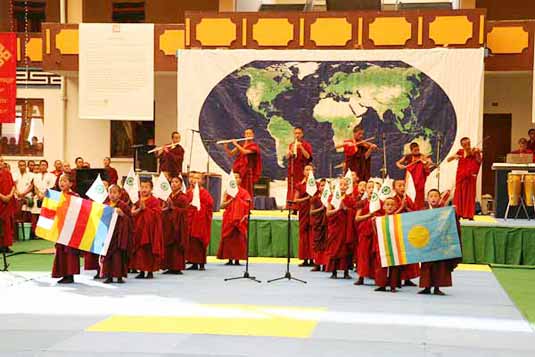 In 1982, the Palpung Sherabling Environment and Wildlife Preservation and Propagation Voluntary Organization was spontaneously founded by the 12th Chamgon Kenting Tai Situpa. It has now formally established itself to serve the ecosystem of this planet with the aim of further refining and extending its activity. The focus is to set a Mandala as an example to humanity demonstrating how we start in our own home then become global.
On November 13, the Opening ceremony of the Palpung Environment and Wild life preservation and propagation voluntary Organization, PSEWPPVO took place at Palpung Sherabling Monastic Seat. The program began with the chanting of the Palpung Sherabling Prayer (Mount of Excellency).
The Chief Guest, the Honorable Shri R.S Gupta Deputy commissioner of District Kangra, Himachal Pradesh, India and Chamgon Kenting Tai Situpa opened the curtain to reveal the memorial stone and to light the butter lamps. A tree was planted by the Honorable Shri R.S Gupta and Chamgon Kenting Tai Situpa. The young monks of Palpung Sherabling School then performed a drama to raise awareness of environmental issues.
Chamgon Kenting Tai Situpa addressed the assembly with an explanation of the elaborate motive and background behind this Organization. This was followed by an address from the Honorable R.S Gupta supporting the event and its activities under blessing of Chamgon Kenting Tai Situpa.