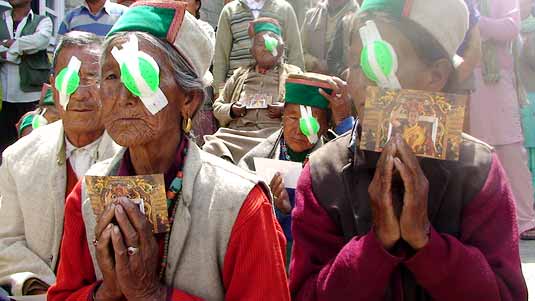 PALPUNG MUNISHASAN DHARMA CHAKRA SANGH is a Buddhist Sangha whose aim and object is to preserve and propagate the valuable teaching and practice of Lord Buddha and its lineage, culture, and tradition of arts and crafts etc, while at the same time protecting the environment and health of human beings in every possible capacity.
In the past, this society has contributed to various projects and services within communities throughout India under the Blessing of the 12th Kenting Tai Situpa. Thousands of individuals have trained in Buddhist way of life and many hundreds of boys and girls are ordained as monks and nuns after which proper training is introduced. As a result many of them become great human beings and benefit all areas of human society.
Many people from Kinnaur District which, is two days drive from Palpung Sherabling Monastery, have very serious problems with their eyes largely due to lack of facilities. To this end, Palpung Munishasan Dharmachakra Sangh organized the Free Eye-Camp at the Pooh from June 3rd through June 5th, 2008. The team, headed by Dr. Rohit Sharma, the main eye surgeon, included a full medical team from the Rotary Eye Hospital Maranda in Palampur. During the three day eye camp, more than five hundred and fourteen patients where screened by doctors. In the end the camp provided 46 patients with eye operations, allocated over 160 pairs of prescription eyeglasses and also filled prescriptions for much needed medicines.
Palpung Munishasan Dharma Chakra Sangh will continue this kind of service in the future under the Blessing of the 12th Kenting Tai Situpa.