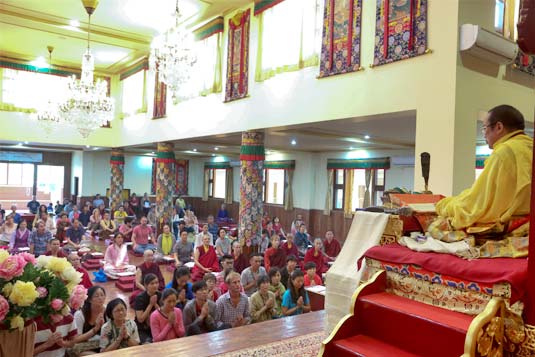 Following the long time request by Sukhasiddhi Foundation in California, USA led by Lama Palden Dolma and students, Guru Vajradhara Chamgon Kenting Tai Situpa gave the transmission of Mahayana Uttra Tantra Shastra (Gyu Lama Tencho) by Lord Maitreya.
The transmission was held from 11-16th September 2015 for 6 days and students who participated came from various countries and the transmission was directly expounded in English by Guru Vajradhara.
On the last day of the schedule, as requested by the students, Guru Vajradhara bestowed Buddha Maitreya's Empowerment and all the students felt very content with the blessing and compassionate and tireless transmission given on vast subjects by Guru Vajradhara at Palpung Sherabling Monastic Seat.