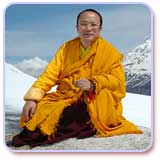 May 18 - Photos
On May 18th, 2008, early morning at 5:00 am the group departed from Manali. The first stop on the voyage was in the Khoksar Valley, where, at around 8:00 am hundreds of devotees were waiting to receive blessing from Kenting Tai Situpa. Their wish was fulfilled.
The 2nd stop was in the Sissu Valley at the State Guest House where a large number of people waited for blessing. Kenting Tai Situpa granted them transmission of two important mantras, AVALOKITESHOVARA and GURU RINPOCHE, along with a short teaching. The essence of this teaching was: "Every one should be happy with a sincere heart for the rest of their life and that life should remain spiritual. For no spirituality in life is like hollow bamboo - life is empty of meaning"
The 3rd stop was in the Shashen valley, where, at the request of Mr. Duni Chand who is the president of the Nyingma Monastery at Manali, a lunch was served at his Guest House and many devotees received the transmission of the Vajra Guru mantra and the Chenrezik Mantra and every devotee went up for a blessing from Kenting Tai Situpa.
The 4th stop was in the Keylong valley at request of Bhotia School where all the teachers, staff and students received blessing, a teaching and the transmission of the two mantras mentioned above. The essence of the teaching at the school was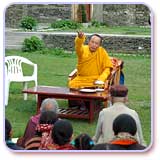 "priceless knowledge comes from study, and diligence is the most powerful tool in quest of knowledge. Teachers should have a sincere caring for students with genuine concern for their knowledge, while students should have respect and trust for their teachers."
The 5th stop was at Yongnang Valley where hundreds of devotees received blessings from Kenting Tai Situpa and the transmission of the mantra of the Buddha of Compassion (Avlokiteshovara) with pure devotion and trust for the Buddha of Compassion.
The 6th stop was at Gemur Valley at the request of LOK JYOTI BUDDHA VIHAR monastery, where the entire monastery, both inside and out, was consecrated. Several hundred devotees gathered for Kenting Tai Situpa's blessings and also received transmissions of the two mantras mentioned above and a short dharma teaching. The essence of the advice was that, "everybody should live with a happy, open heart. It is not worth it to waste one night's sleep over worldly concerns, so BE HAPPY AND HAVE AN OPEN HEART. "
The 7th and final stop on this day was at Jispa Valley where the 12th Kenting Tai Situpa was welcomed by the Ven, Choesphel Zotpa, a member of National Commission for Minorities and President of the Himalayan Buddhist Cultural Association, along with Lama Gyatso, the regional president of Himalayan Buddhist Cultural Association in Jispa, the main head of Gram Panchayat and sangha members of various Lahual Monasteries. The 12th Kenting Tai Situpa was welcomed with a traditional monastic reception at the Hotel Jispa, where he stayed three days.