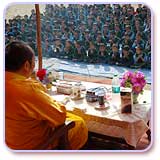 May 23 - Photos
On May 23rd, 2008 at 8:00 am the group departed from Silmog Garden and, as requested by Ven, Choesphel Zotpa, Kenting Tai Situpa stopped to bless the Himalayan Culture School in Manali. A half hour stop was made while Kenting Tai Situpa blessed the school compound and also gave brief advice in Hindi to young students. The children enjoyed Kenting Tai Situpa's advice and received blessings from him as well. Immediately afterward, Kenting Tai Situpa visited a new project of Himalayan Buddhist School and blessed the ongoing project as requested by Ven, Choesphel Zotpa.
Once back on the road Kenting Tai Situpa also visited the Tibetan handicraft school at Patikul and blessed the school compound and all the students. Kenting Tai Situpa then gave very encouraging advice and teaching to all the administrators, staff and students. They were overwhelmed by Kenting Tai Situpa's wisdom.
After Patikul, Kenting Tai Situpa also visited the Dobi Tibetan Settlement and blessed the shrine of Mani Lhakhang and gave a brief teaching and blessing.
The end of this Buddha activity was marked by Kenting Tai Situpa's visit to the SAMBHOTA TIBETAN SCHOOL in Bhuntar as requested by the Tibetan Welfare Officer. The Sambhota School welcomed Kenting Tai Situpa with a reception after which he transmitted the essence of Buddhist teaching in a very simple way that young students can understand. He encouraged students on how important it is to concentrate on their studies while they are young. Those young boys and girls understood Kenting Tai Situpas teaching very clearly as was visible in their happy joyful faces right up until Kenting Tai Situpa left.
Ven, Choesphel Zotpa, who is a Member of Government of India's, National Commission for Minorities and also the President of the Himalayan Buddhist Cultural Association, Tibetan Welfare Officers and representatives of all the Tibetan Associations paid their parting respects to Kenting Tai Situpa before his car finally turned toward Palpung Sherab Ling Monastic Seat.