May 21 - Photos
On May 21, 2008 at 10:30 am the party departed from Jispa Valley headed to TOPCHUE LING Monastery which was built by the 13 villages of Lahual, Spiti. A reception in traditional monastic style, with a traditional Tibetan Tea ceremony was conducted and then Kenting Tai Situpa transmitted teachings on how to be happy and lead a meaningful life. He spoke about the importance of motivation when we pray to Buddha, Bodhisattvas and Dharma protectors. He also taught on how to have a wise and spiritual livelihood in your mundane life. After the teachings, hundreds of devotees received blessings followed by the consecration of the New Monastery as well as the shrine room of the old Monastery.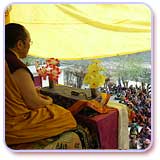 At 12:30 pm the party arrived at MANING Monastery to a beautiful reception. Following that, Kenting Tai Situpa consecrated the Monastery shrine and the whole environment and then gave public blessings and teachings as requested. The essence of the teaching from Kenting Tai Situpa to the Maning Devotees was on the fact that, "the six years of solid meditation Prince Sidhartha did at Narajana River was not the only cause of his Enlightenment. The six years of meditation marked the end of meditation that made him Buddha. But three great Kalpas before that there was Buddha called SHAKYA THUBCHEN and at that time prince Siddhartha was just a beggar with only one bowl of food to his name when he met BUDDHA SHAKYA THUBCHEN. The future prince Siddhartha was overwhelmed when he met this Buddha and immediately offered his bowl of food to the Buddha saying," By the merit of this offering, may I become like you in future and may I able to limitlessly benefit every sentient being as you do."
So this is the first cause for Prince Siddhartha to become Buddha. Then after many Kalpas Prince Siddhartha was able to manifest as Buddha at Bodhgaya after six years of meditation at Narajana River.
Buddha is the only one who is fully enlightened. Other than that, all the sentient beings from heaven to hell are samsaric. Therefore, the First Turning of the Wheel of Dharma by Buddha was requested by two of the most powerful Kings of Heaven. So in this way we have to understand that our ultimate protector, our ultimate guide, is Buddha, his teachings and his Sangha.''
At 8:00 pm the group arrived at Manali and retired at SILMOG GARDEN as arranged by the Himalayan Buddhist Cultural Association.