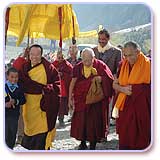 May 19 - Photos
May 19th, 2008 was Buddha Purnima. It was on this day that Prince Siddhartha was born at Lumbhini. It was also on this day that Prince Siddhartha became Buddha at Bodhgaya and again on this same day many years later that Buddha finally took Parinirvana at Kushinagar.
At 10:00 am Kenting Tai Situpa arrived at Kalachakra Place. He was received, in an elaborate traditional monastic reception, by all the Monastic Sangha and people of Lahual. A traditional Tibetan tea ceremony was offered and then the day began with a grand Guru Rinpoche Puja celebrated with an elaborate feast headed by Kenting Tai Situpa and joined by all the senior lamas of Lahual Monasteries. This puja was dedicated to world Peace.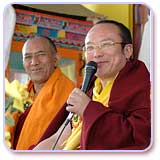 At 12:00 am the main function of this day began as many local dignitaries talked about Buddha Purnima. Finally the guest of honor, Kenting Tai Situpa, explored the topic with a very profound and clear introduction to the idea "what is Buddha? How did Prince Siddhartha become Buddha? What is difference between Buddhahood and Samsara? What is the importance of lineage in Buddhism and how it is because of lineage that Buddha's teachings still have blessing."
At 3:00 pm a cultural show began and Kenting Tai Situpa came to view the performance. The devotees and performers were delighted with Kenting Tai Situpa's presence. At the end of the day, as requested, Kenting Tai Situpa consecrated the entire environment of Jispa Valley and the main shrine of Kalachhakra Place.