Activity Date: 11/24/2011 - 11/30/2011,Released Date: 2011/12/03
Activities of Global Buddhist Congregation in New Delhi
---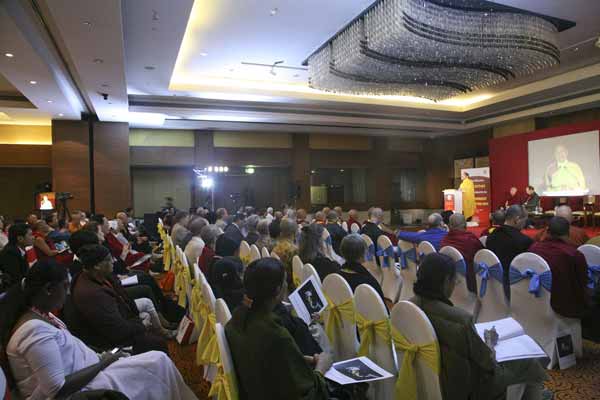 ---
---
The Asoka Mission organizer of the Global Buddhist Congregation (GBC) of New Delhi invited Chamgon Kenting Tai Situpa, and group of Palpung Sherabling monks to participate in a cultural exhibition. The exhibit took place from November 24-29, 2011 at the India habitat Center in New Delhi.
During the exhibition the Palpung Sherabling monks skillfully prepared a butter sculpture of Lord Buddha Shakyamuni, Shariputra (Sariputra) and Mongal Putra (Moggallāna). They also prepared the Mandala of Hevajra. Hundreds of viewers received the blessing of these works of art and devotion. On November 28th Chamgon Kenting Tai Situpa paid a visit to the exhibition and blessed the various displays.
In addition, a celebration of the 2600th year since the Enlightenment of the Buddha, took place in New Delhi from November 27 - 30 November 2011 and was organized by the GBC. This four day meeting included heads and representatives from Buddhist Sanghas, national Buddhist federations, organizations and institutions from 46 countries. Chamgon Kenting Tai Situpa was invited to speak at this historic event on the subject of "LIVELIHOOD & DEVELOPMENT Buddhism: in Fast-Changing World". The speech took place at the Lalit Hotel in New Delhi on November 28, 2011.
On November 30th 2011, closing ceremonies of the GBC were held: The event was attended by dignitaries, VIP's, diplomats, delegates and observers from all 46 countries represented at the GBC. The closing event took place at the Convention Hall in the Ashok Hotel in New Delhi. This session was blessed by His Holiness the 14th Dalai Lama and included his enlightening teaching for all devotees. On this very auspicious closing ceremony His Holiness Gyalwang Kamapa Ogyen Drodul Trinley Dorje and Chamgon Kenting Tai Situpa participated together along with other Buddhist Leaders and masters.