Activity Date: 10/8/2015,Released Date: 2015/10/11
Hindu Spiritual and Service Fair
---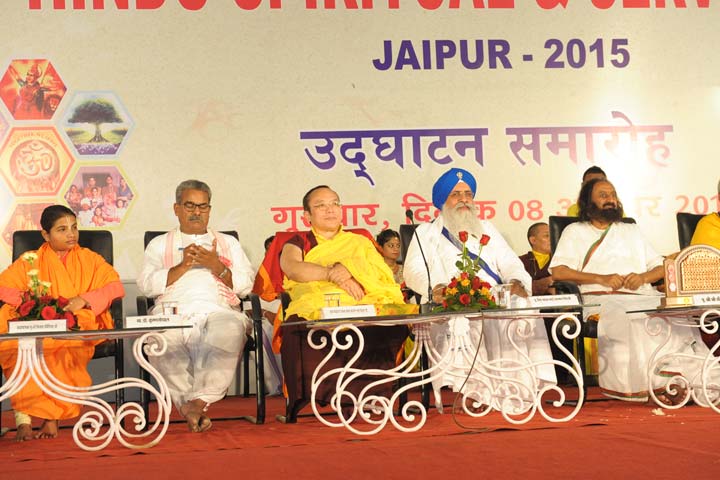 ---
---
On the 8th of October 2015, Guru Vajradhara Chamgon Kenting Tai Situpa travelled to Jaipur Rajasthan to participate in the Hindu Spiritual and Service Fair as the Guest of Honour at the invitation of the organizers of this grand fair.
Invitation Letter:
The First Hindu Spiritual and Service Fair- Jaipur, which is a highly popular event in Chennai for the past seven years in which hundreds of Indian spiritual organisations showcased their service activities and over 7-8 lakh people visited, will be held from 8th to 11th October, 2015 at the sprawling grounds at SMS INVESTMENT GROUND, RAMBAGH, JAIPUR, Rajasthan. The Sixth Hindu Spiritual and Service Fair 2014 was last held in Chennai from July 8- 14, 2014.
A detailed write up of the activities proposed at the HSS Fair along with a humble request to invite you to be the Guest of Honour at the inaugural and encourage this great initiative to promote service through spiritual path, is being attached for your kind consent please.
We look forward for your kind consent please.
Warm regards

(Dr. Subhash Chand Bapna)

President

Hindu Spiritual and Service Foundation

Chapter – Rajasthan, Jaipur
All the religions are one family to serve humanity and especially Buddhism and Hinduism are like two brothers. What spiritual path we follow is not the most important but the most important thing is that everyone is looking for happiness and no one likes to suffer and it is the common interest of every living being so all religions and leaders should serve these common goals to have ultimate peace and liberation from suffering of Samsara and achieve ultimate nirvana.
Many other great leaders of spiritual traditions including Shree Shree Ravi Shankar, the founder of Art of Living expressed the same thing at this religious function.