Activity Date: 1/12/2015,Released Date: 2015/01/24
Walk of Hope
---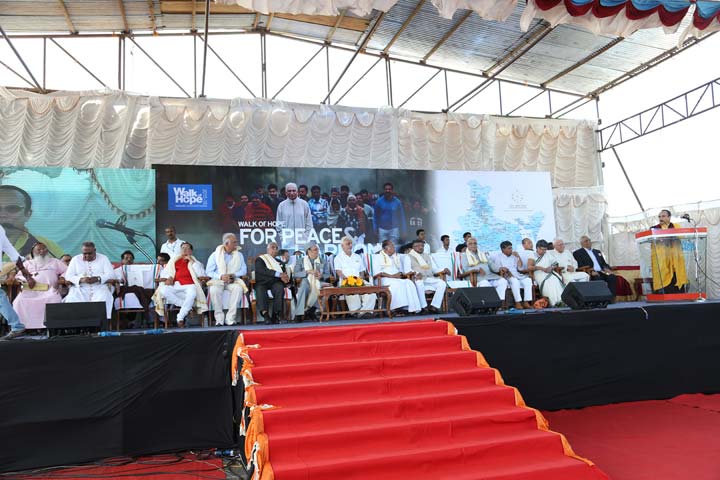 ---
---
On the 12th of January 2015, Guru Vajradhara Chamgon Kenting Tai Situpa was invited by Sr. M and the Manav Ekta Foundation to participate in the significant event of the flag-off of the Walk of Hope from Kanyakumari.
Guru Vajaradhara's day began with his visit to the Vivekanand rock along with Sri. M and other dignitaries. At the Vivekanand rock Guru Vajradhara first meditated in the cave and then offered an orange silk khata.
Many dignitaries from the Government and various religious leaders also participated in the event.
The morning session began at 9.30 am and concluded at 12 noon. There were 15 guests of honour who addressed the attendees at the event.
Sharing his wisdom at the flag off event, Guru Vajradhara expressed the significance of this event according to the teachings of Buddhism and conveyed his heartfelt support for the success of the event.
At the end of the morning session chief guest Padma Vibhushan. Dr. Karan Singh addressed the gathering. This session then concluded with interfaith prayers from Hinduism, Buddhism, Jainism, Sikhism, Bahai, Judaism, and Zoroastrian faiths and others.
The afternoon session had well-known singers performing the walk of hope song, dohas, bhajans and other devotional songs from Kabir and other inspiring poets.
This was followed by the singing of the national anthem and each Guest of honor receiving the Manav Ekta Flag.
In the concluding part of the day Sri M. Chief Guest, Guru Vajradhara and other guets of honour garlanded the statue of the father of the nation Gandhiji. The chief guest then handed the national flag to Sri.M. After this the walk of hope was flagged-off from zero point.